RATA Heated Sample Lines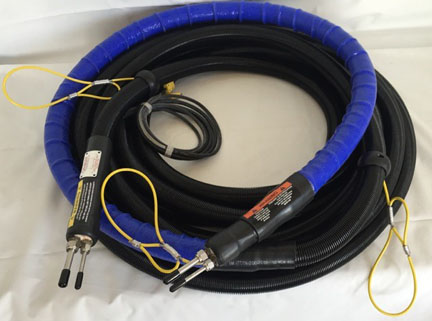 If you haven't heard of Clayborn Lab, perhaps you've heard of "Tuff Guard" in relation to heated sample lines. Clayborn introduced this new outer sheathing called "Tuff Guard" in 2013. This high strength extremely durable exterior cover offers superior heated sample line protection with one third less weight, setting a new standard in the marketplace. Combine this with Clayborn's proprietary armored end cap system, and you have significantly improved the lifespan for portable stack (RATA) testing sample lines. No longer do you have the accidental kinking of a hot teflon line, damage to the ends caused by leaks in the line, or the failures that occur from the stress of the constant weigth of the line. Most of these common issues are prevented or can be easily repaired using Clayborn's heated sample lines.
The heated sample lines are built with these standard features:
Lightweight. 50ft (15m) is 22lbs (10kg); 100ft (30m) is 42lbs (19kg); 200ft (60m) is 83lbs (37kg) (Your techs, scheduler, and medical insurance bean counters will thank you)
Field Replaceable Ends
Three strain reliefs
Two type K thermocouples
7ft Fire Sleeve
New 15A, 20A, 25A and 30A controllers
Clayborn Lab sample lines have a built-in strain relief system which consists of an aircraft grade cable loop that can be attached at multiple points to an internal nylon braid. It functions as an internal Kellum grip distributing the weight equally down the entire length of the sample line. Field techs can utilize the loop(s) when climbing ladders or hoisting/lowering the HSL to prevent stress or accidental damage to the sample line. The most common strain relief loop locations for RATA testing are at each end of the line with a 3rd loop located 8' to10' back from sample end of the line. The 3rd location enables the Field Tech to quickly secure the line while leaving 8'-10' of the HSL free to move about the platform during set-up and testing procedures. The strain reliefs can be located at any location along the line.
The Clayborn Lab sample lines incorporate an armored end cap system with field replaceable ends. This system allows you to quickly change out the end fittings at the job site. This system has been available for many years but was upgraded significantly about 24 months ago with the introduction of a new fastening system to secure the Teflon tube to the bulk head fitting (behind the armored end caps). This new fastening system virtually eliminates the possibility of a leak occurring internally from behind the end caps.
The following description is of a typical Clayborn Lab Heated Sample Line:
100ft Stack Test HSL 3/8" Heated, 1/4" Calibration, maintain 400deg F, 0deg F Ambient, K T/C, 120VAC (or 220VAC), Armored Ends, (2) Strain Reliefs
RATA Heated Sample Lines
Item # HSL

Add to Quote for Pricing

Add to Quote