Particulates: Portable Simultaneous Particulate Profiler, ES-412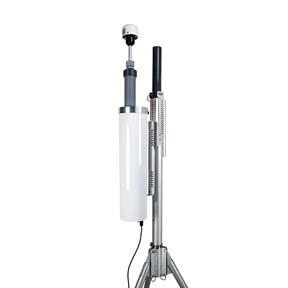 Introducing the newest addition to Met One Instruments, Inc. line of Localized Particulate Monitors, the ES-412 Portable Simultaneous Particulate Profiler. As a Near-FEM (Federal Equivalent Method) product, the ES-412 provides the quality and day-to-day stability consistent with EPA quality objectives. This lightweight Particulate Profiler offers wireless, remote PM monitoring in a low profile, field deployable, weatherproof unit that measures both PM2.5 and PM10 simultaneously.
Set up with ease for either temporary quick deployment or permanent installation, and have instant access to data on your smart phone, tablet, or computer. Data from the ES-412 is backed up internally and then transmitted to a nearby cell tower every 15 minutes. In the event of cell tower communication loss, the ES-412 will attempt communication continuously until it is regained. When this occurs, the ES-412 will transmit all missing data when communication is re-established, providing data security.
Transmitted data contains 15-minute averages for PM2.5 and PM10 along with information on device power, flow, and internal diagnostics. Additionally, your custom web page dashboard offers a map showing where the unit is located with an internal GPS module. The ES-412 is a system that comes complete with cellular communications, a customized web page dashboard, a 3-year data plan, an AC power supply, and a transport case.
Supplied Accessories:
Operator's Manual

Calibration Certificate (NIST)

Power Supply

Carrying Case

Software available from website
Applications:
Fenceline Monitoring

Public & Workplace Monitoring

Industrial Facility & Process Monitoring

Schools

Smart Cities

Tunnel Monitoring

Industrial/Occupational Hygiene
Particulates: Portable Simultaneous Particulate Profiler, ES-412
Item # ES-412

Add to Quote for Pricing

Add to Quote