Method 2 Flow Umbilical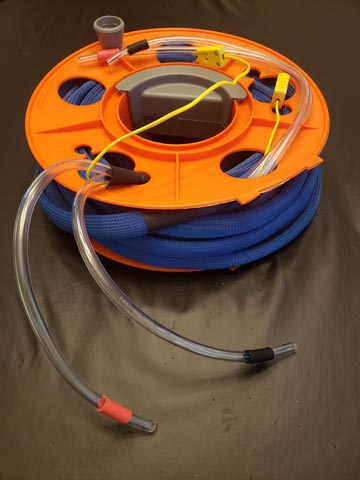 The RS-M2U flow umbilical series facilitates Method 2 flow measurements without the weight or stiffness of a full Method 5 umbilical. The sheath is made of polyester, and combined with the PVC tubiing makes for a great flexible, and light weight umbilical.
Options that can be added to the RS-M2U are:
1/4" brass tubing ends, plain
1/4" Swagelok Quick Connect ends
3/8" Swagelok Quick Connect ends
Cable grip
To complete your own Method 2 system, you will need the following:
Digital Manomter
Digital Thermocouple Reader
Pitot Tube
25 foot (RS-M2U-025) or 50 foot (RS-M2U-050) versions are most common, or you have the option of connectiing in series for longer lengths.
Method 2 Flow Umbilical
Item # RS-M2U

Add to Quote for Pricing

Add to Quote