F5000-5 Automotive and Forklift Gas Analyzer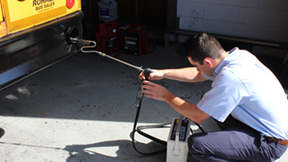 The F5000 analyzer can measure up to six gases and includes the following:
CO2 Sensor (0 to 20 %) NDIR

CO Sensor (0 to 15 %) NDIR

HC (Hydrocarbons) Sensor (0 to 10,000 ppm) NDIR

O2 Sensor (0 to 25 %)

NO Sensor (0 to 5000 ppm)

NO2 Sensor (0 to 1000 ppm)

AFR (Air:Fuel Ratio) & Lambda (λ) Calculations

12″/300mm Probe with S-Type Exhaust Fitting & Clamp

Flexible Probe Attachment

Sample Conditioning Unit for Condensation Removal

PC Software Package with Real-Time Graphing, Logging, and Recording

Bluetooth & USB Cable

Wireless Bluetooth Printer

Internal Memory, 2000 Tests

Automatic Data Logging

Swivel Handle for Easy Transport & Operations

Long Life, Rechargeable Battery & AC Charger

Protective Carrying Case

Operating Manual

Calibration Certificate
Recommended Spare Consumable Parts:
Options:
Bluetooth Wireless Remote Printer

Flexible Tip for Probe

Protective Carrying Case with Shoulder Strap

10ft Hose Extension
The F5000 meets or exceeds accuracy requirements of BAR97 and OIML R99 and is ideal for monitoring emissions from vehicles that burn diesel, gasoline, propaine, LPG and CNG. This 5 Gas Analyzer can be used for engine tuning and diagnostics, pre-compliance verficiation testing, and to evaluate the effectiveness of fuel additives, catalysts, and other engine interventions designed to decrease emissions and fuel costs. The F5000 includes real-time data logging software that can be used for creating emissions reports.
F5000-5 Automotive and Forklift Gas Analyzer
Item # F5000

Add to Quote for Pricing

Add to Quote