Defender 530+ Plus High Range Calibrator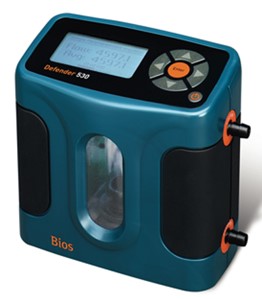 The Bios Defender 530+ Plus High Calibrator has the ability to take both volumetric and standardized readings, adding to the line of DryCal primary flow calibrators on the market today. Automatic correction of readings for temperature and pressure, rather than merely recording of ambient conditions is essential in many applications.
The Defender 530+ Plus provides users with a true primary flow calibrator for industrial hygiene, environmental, and laboratory applications.
Defender primary flow meters are designed to provide light-weight ultra-compact size, incorporating the industry leading DryCal technology. Building on the patented DryCal near-frictionless piston technology, the Defender 500 series incorporates features to make it immune to flow source pulsation without the need for in-line dampers.
The Defender 530+ Plus is easy to use. Turn it on. Connect it to a sampling pump. Start taking readings. It's as simple as that! Calibrations within a minute, with no messy soap bubble solutions to wait on or clean up.
Accuracy
Proven percent of reading accuracy is supported by ISO 17025 accreditation by NVLAP of NIST

Integrated temperature sensors and pressure transducers placed directly in the flow stream for optimum standardized results

Defender 530 ±1% of reading volumetric, ±1.2% of reading standardized for temperature & pressure
Convenience
Housed in a molded case with rubber handgrips for a better feel and a sleeker, more contemporary look

Large illuminated flow cell viewing window

Navigation menu and a large, illuminated graphical display with zoom feature

Rated for extreme cold operation, down to -20 ºC

RoHS (Restriction of Hazardous Substances) compliant for Europe

Automatic shutoff
Flexibility
Choose between flow units

Volumetric: mL/min, L/min, cc/min, or cf/min

Standardized: smL/min, L/min, cc/min, or scf/min

Include up to one hundred readings in a group average

Take individual readings, continuous hands-free readings, or set to read in time intervals anywhere from one minute to sixty minutes between readings
Flow Range - High
What Is Included:
Instrument

Serial Cable

100-240V AC Power Adapter/Charger with US Plug Configuration

Plastic Leak Test Caps (2)

NIST-Traceable Calibration Certificate

Mini-Manual and Instructions for downloading the free DryCal Pro Software
Defender 530+ Plus High Range Calibrator
Item # 530H

Add to Quote for Pricing

Add to Quote