Particle Counter: 804 Four Channel Handheld Particle Counter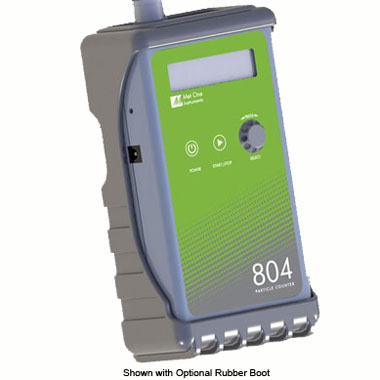 Accurate - Reliable – Affordable
Seven Sizes: 0.3, 0.5, 0.7, 1.0, 2.5, 5.0 or 10.0 microns
Met One's 804 handheld particle counter is a 4 channel portable particle counter that counts particles 0.3 microns to 10.0 microns, giving you portability and realiability at a low price.
Completely Self-Contained - Selectable Particle Sizes
Don't let the size fool you! This unit is completely self-contained with its own internal battery and sample pump, and is programmable, allowing you to choose your particle sizes of interest from seven sizes: 0.3, 0.5, 0.7, 1.0, 2.5, 5.0 or 10.0 microns.
Fast Sampling
Unlike other counters that can take up to a minute to deliver results, the 804 incorporates user selectable samplint time up to 1 minute and displays counts in as little as 3 seconds. The unit will take single or continuous samples.
Simple Operation
Only two front-panel buttons and scroll wheel provide a user friendly, menu driven platform that provides ease in configuration.
Battery or AC Powered
The self-contained battery pack powers the unit for 30 hours of typical intermittent operation, and for up to 8 hours of continuous use. The included aC charger/adapter operates the counter, even when the battery pack is discharged, and recharges the depleted battery in 2.5 hours.
Flexible Data Interfaces / USB Communication
Stores up to 2500 records for output, Excel formatted ouput via included single computer software. USB interface provides quick data download and field firmware upgrades.
Applications
Industrial/Occupational Hygiene
Process Control
Indoor/Outdoor Air Quality
Process Control
HVAC Applications
Filter Testing
Laboratory Environments
Trace Contaimination Source
QA Programs
Specifications 804
Operating Principle Counts individual particles using scattered laser light
Features
Sample Duration 1 minute
Data storage 2,500 records
Display 2-line by 16-character LCD
Controls 2 button keypad with rotary dial
Performance
PM Ranges Four Channels: >0.3, >0.5, >0.7, >1., >2.5, >5.0, and >10.0 µm (selectable)
Concentration Range 0 – 3,000,000 particles per cubit foot (105,900 particles/L)
Sensitivity 0.3 µm
Accuracy ± 10% to calibration aerosol
Flow rate 0.1 CFM (2.83 lpm)
Sample Time Adjustable (3 - 60 seconds)
Status Indicators Low Battery, Service
Electrical
Light Source Laser Diode, 780 nm, 30 mW
Power 7.2V Lithium Ion self-contained battery pack.
AC Adapter/Charger AC to DC module, 100 – 240 VAC to 8.4 VDC
Battery Type Li-ion rechargeable Battery
Battery Operating Time 8 hours continuous operation, 30 hour intermittent operation
Battery Recharge Time 2.5 hours typical
Communication USB
Physical
Size Height: 6.75" (17.2 cm) Width: 3.75" (9.5 cm)
Thickness: 2.0" (5.1 cm)
Weight 1.31 lbs – 21 ounces – (0.60 kg)
Environmental
Operating Temperature 0º C to +50º C
Storage Temperature -20º C to +60º C
Accessories
Supplied AC to DC Converter Module with IEC AC Power Cord
USB Cable
Operation manual
Software
NIST Traceable Calibration Certificate
Optional Carrying Case (P/N 8517)
Protective Boot (P/N 80450)
Zero Filter Kit (P/N 80846)
Flow Meter Kit (P/N 80530)
Particle Counter: 804 Four Channel Handheld Particle Counter
Item # MOI804

Add to Quote for Pricing

Add to Quote