Particulates: Met One E-FRM Ambient Air Sampler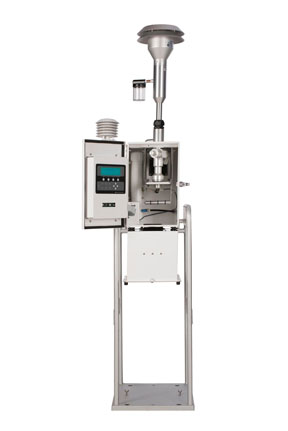 Met One Instruments has come out with another quality product: The E-FRM!
The model E-FRM is a single-event ambient air sampler designed to meet all US-EPA PM2.5 FRM specifications in accordance with 40 CFR Part 50 Appendix L. US-EPA PM2.5 FRM designation number for the E-FRM equipment with either a VSCC or a WINS impactor is FRPS-0315-221. Alternately, other sharp-cut cyclones can be installed for non-designated or indicative PM2.5 or PM1 sampling. If PM10 monitoring is desired, the PM2.5 cyclone can be omitted entirely and the pass-through adapter can be installed in its place.
Some countries do not require the full U.S. EPA FRM criteria for their PM2.5 sampling networks. These samplers may be supplied with a model BX-807 PM2.5 Sharp-Cut Cyclone instead of the VSCC cyclone or WINS Impactor.
The E-FRM holds a single 47mm Teflon filter disc in a filter cassette. The cassette must be replaced by the operator for each sample. The flow rate is 16.7 L/Min. Flow data can be downloaded through the serial port or copied directly to a USB flash drive.
The E-FRM sampler folds down into its own stand for easy transportation and storage. The entire pump box is removable for easy carrying and service. It is completely weatherproof for outdoor sampling.
Standard Accessories:
Main weatherproof instrument enclosure with quick deployment aluminum stand
Removable pump box module with built-in power supply and flow monitoring/control
BX-802 EPA Pattern PM10 Inlet
Pass-through adapter for PM10 sampling
One 47mm filter cassette assembly
PTFE sample filters
Leak test valve
Inlet tube
Ambient temperature sensor with solar gill shield
FRM COMM Data acquisition software
Serial communications cable
Instruction manual
The E-FRM is a portable, lightweight sampler suitable for use as an audit device or in a permanent installation.
The E-FRM joins the Met One Instruments BAM-1020 Beta Attenuation Mass Monitor and the Met One Instruments BAM-1022 Continuous Beta Attenuation Mass Monitor as Met One Instruments' third EPA-designated method for PM2.5.
Particulates: Met One E-FRM Ambient Air Sampler
Item # E-FRM

Add to Quote for Pricing

Add to Quote