Particle Counter: Aerosol Mass Monitor Model 831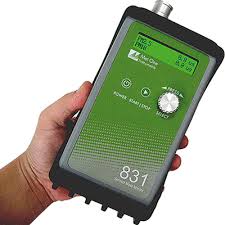 Compact - Reliable - Affordable
Four Mass Ranges (PM1, PM2.5, PM4, PM10)
A mass monitor that simultaneously provides data of four important mass ranges in one minute.
Handheld Operation
Survey the environment with this extremely portable, size selective mass monitor. This compact, lightweight instrument is only 28 ounces and is the perfect survey tool for a wide range of applications.
Simple Operation
Only two front-panel buttons accompany the multifunction rotary scroll wheel to provide simple and efficient operation. Just press and rotate to scroll thru the menu driven platform.
Sample History
View sample history easily on the display, or export data via the USB port using the included software. The unit stores up to 2,500 sample events and the USB interface provides quick data download, with field firmware upgrades.
Battery Powered
Typical intermittent operation of 24 hours and up to 8 hours of continuous use. Recharge time is only 2.5 hours. The included AC charger/adapter operates the counter even when the battery pack is discharged.
Applications
Industrial/Occupational Hygiene

Point Source Location Monitoring

Indoor/Outdoor Air Quality

Process Control

HVAC Applications

Filter Testing

Mining and Ore Processing

Remote Sampling
Specifications 831
Operating Principle Particle count to mass conversion
Features
Sample Duration 1 minute
Data storage 2,500 records
Display 2-line by 16-character LCD
Controls 2 button keypad with rotary dial
Performance
PM Ranges PM1, PM2.5, PM4 and PM10
Concentration Range 0 – 1,000 µg/m3
Resolution 0.1µg/m3 (display / serial output)
Sensitivity 0.5µm
Accuracy ± 10% to calibration aerosol
Flow rate 0.1 CFM (2.83 lpm)
Electrical
Light Source Laser Diode, 780 nm, 40 mW typical
AC Adapter/Charger AC to DC module, 100 – 240 VAC to 8.4 VDC
Battery Type Li-ion rechargeable Battery
Battery Operating Time 8 hours continuous operation
24 hour intermittent operation
Battery Recharge Time 2.5 hours typical
Communication USB Mini B Type
Physical
Size Height: 6.25" (15.9 cm) Width: 3.63" (9.22 cm)
Thickness: 2.00" (5.08 cm)
Weight 1.74 lbs – 28 ounces – (0.79 kg)
Environmental
Operating Temperature 0º C to +50º C
Storage Temperature -20º C to +60º C
Accessories
Supplied Battery charger / adapter
USB Cable
Operation manual
Comet software
Optional Carrying Case (P/N 8517)
Protective Boot (P/N 80450)
Zero Filter Kit (P/N 80846)
Flow Meter Kit (P/N 80530)
PDF Manual: Aerosol Mass Monitor Model 831 Manual
Particle Counter: Aerosol Mass Monitor Model 831
Item # MOI831

Add to Quote for Pricing

Add to Quote