Emissions Analyzer: S1500 Portable Industrial Gas Analyzer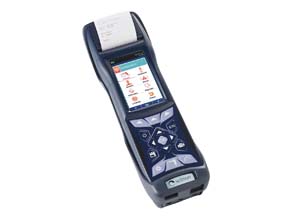 The UPDATED S1500 is a hand-held industrial combustion gas and emissions analyzer that is a valuable tool designed for maintenance & tuning of combustion processes including boilers, burners, gas & diesel engines, turbines, furnaces, kilns, heaters, and laboratory analysis.
S1500 features include the following:
O2, CO, CO2

Plug and Play Pre-Calibrated Field Replaceable Sensors

Efficiency, Excess Air, & CO2 Calculation

12" (300mm) Probe with 5' (1.5m) Dual Hose

1112 deg F (600 deg C) max

CO Air Free

Dilution pump for CO Auto range up to 100,000ppm

Ambient CO monitoring

CO Sensor protection

32 Programmed Fuels (including #2 Oil, #4 Oil, #6 Oil, Natural gas, Propane, Biofuel, Wood, and more)

Full Color Display

Smartphone Real Time + QRcode App (iOS, Android)

Hard carrying case

Automatic Data Saving

Built-In Impact Printer (non-fading paper)

Stack Gas & Air Temperature Measurements

Draft & Differential Pressure Measurements

Internal Memory - 2000 Tests

High Altitude Adjustment

Rechargeable Lithium Ion Battery Pack with AC Charger

Unbreakable Metal Hose Connectors

PC Software Included

Bluetooth Connectivity

Long lasting rechargeable battery and AC charger

Instruction Manual

Calibration Certificate
Ordering Information: S1500
Standard: S1500 O2 (0-25%) and CO (0-8000ppm) Field Replaceable Sensors with printer.
S1500-NP Paperless Combustion Analyzer.
S1500-NP-OIL Kit plus Oil smoke pump, smoke filters and comparison sheet.
Emissions Analyzer: S1500 Portable Industrial Gas Analyzer
Item # S1500

Add to Quote for Pricing

Add to Quote