Electronic Data Logger (Software Included)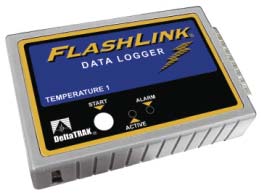 The DeltaTRAK FlashLink electronic data logger is one of the most economical electronic data loggers available. It includes a single internal temperature sensor. The FlashLink is easy to read, highly accurate and completely reusable. Output charts, graphs, spreadsheets or e-mail results anywhere in the world. Features a 3,822 data point capacity and quick download time. Many in-plant and travel uses. Software required - one time buy (included).
Specifications:
Internal Temp Sensor Range: -40°F to 150°F (-40°C to 66°C)
Temperature Accuracy: ±1°F (0.5°C) at 32°F to 150°F (0°C to 66°C) ±2°F (1°C) over entire range
Temperature Resolution: 0.1°F/C
Logged Data Capacity: 3,822 data points
Data Download Time: 5 second typical for 3,800 data points
Programmable Alarm Levels: High and Low Levels over entire range
Startup Alarm Delay: Skip 1 to 16 points
Operating Alarm Delay: 0 to 79 minute delay fi lter
Logging Time Interval Range: 3 seconds to 24 hours
Programmable Delayed Start: 0 seconds to 256 days
LED Indicators: 12-second flashing red for alarm; green for active
Battery Type/Life: CR2450 3v lithium/1 year
Dimensions/Enclosure: ABS plastic case, 3.25 x 2.25 x .75 in. (8.3 x 5.7 x1.9cm.)
Water Resistance: IP56
Shock Resistance: Withstands 3-foot drop to hard surface
Certification: CE Mark by T.U.V.; Calibration Traceable to N.I.S.T.
Min. System Requirements: IBM compatible 486 with 4MB RAM, Windows XP or Vista
Software Requirements: FlashLink Program Manager Software
Electronic Data Logger (Software Included)
Item # 29165

$244.71 each

Add to Quote