Pump: Buck Elite-12 Pump, Flow range 3 - 12 LPM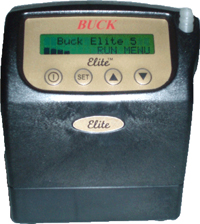 BUCK Elite™ is a data logging, programmable personal air sampler consists of a pump contained in a high impact steel fiber filled Lexan, antistatic, and RFI/EMI-shielded case, exclusive electronic circuit board for constant flow control (patent pending), an LCD display with 2 lines of 16 characters, a single diaphragm pump mechanism, and a rechargeable NiMH battery pack.
The purpose of this pump is to draw air contaminants in through a sampling media such as 25 and 37mm filter cassettes, bubble impingers, long-duration color detector tubes; to gauge personnel exposure to gases, vapors, particulates, aerosols, etc.
No tools are required to operate this pump and a password protected keypad locking system provides uninterrupted operation. The main display allows quick selection to RUN (for sampling) or MENU (to reset pumps data).
Other features include elapsed time, flow rate, and accumulated volume. Programmable timer for delayed start/stop run. The PC link capability lets you download the sampling data into a PC using the RS232COM port and the Buck PC link cable. The built in duration timer counts down the sampling time up to 40 hours and automatically turns the pump off.
* Pump kit includes pump with a single pack NiMH battery, standard 120VAC battery charger, Luer hose adapter, shirt/hose clip, 3 feet of vinyl hose and operating manual.
Features:
• Capable for Data logging and programmable for Start/Stop and Duration Sampling.
• 50 Hours of Run time at 3LPM(0.8um 37mm MCE filter)
• High back pressure compensation, up to 40" of water @4LPM
• Accuracy: ± 5% of compensation range
• Flow range 3 to 12LPM. Low flow of 50-800 cc/min with optional (ordered separately) Universal low flow adapter.
• Flow compensation for filter plugging and battery voltage
• "Auto-restart" within one minute of a flow fault
• Battery pack rechargeable while attached or separately
• Stainless steel belt clip with built-in tripod connector
• Key pad lock system
• One year warranty
APB-908300 Buck Elite-12 Single Pack Pump kit with 120V wall charger.
APB-908320 Buck Elite-12 Single Pack Pump kit with 230V wall charger (add $25).
Pump: Buck Elite-12 Pump, Flow range 3 - 12 LPM
Item # APB-908300

$1,290.00 each

Add to Quote