Emissions Analyzer: E8500 Plus Portable Industrial Flue Gas and Emissions Analyzer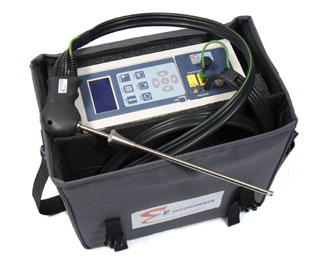 The E8500 Plus is the most powerful & advanced portable gas analyzer on the market, and is a complete,
portable tool for EPA compliance level emissions monitoring of boilers, engines, and other combustion equipment
Providing the latest in combustion gas and emissions analyzers for boiler, engine, furnace and other combustion applications, E Instruments brings us the E8500 Plus with the following standard features:
O2, CO and NO/NOx gas sensors
CO Dilution Auto-Range up to 20,000ppm
Built-in Thermoelectric Chiller with Automatic Condensate Drain Pump
Rechargeable battery pack
110-240VAC/50-60Hz battery charger
12"/300mm probe with 10ft/3m dual hose
Stack gas and air temperature measurements
Draft and Differential Pressure Measurements
Calculated Values for Efficiency, Excess Air, and CO2%
Internal Memory (2000 tests)
Real-time Software Package with Bluetooth Module
Wireless Bluetooth Communications with PC and other Windows compatible devices
Protective Carrying Case
Calibration Certificate
Operations Manual
Complies with US-EPA CTM-030 & CTM-034 test methods
Thermoelectric Chiller with Auto Condensate Drain
The internal thermoelectric chiller efficiently and quickly removes the water vapor from the flue gas sample to prevent combustion gases from bubbling from the gas phase into the condensate. The built-in condensate drain pump automatically pumps the accumulated water out through the bottom of the unit for greater convenience.
Real-Time Software
The standard "EGAS" software package includes the ability to save and graph data in real-time in the field with a laptop or in a laboratory with a PC. Communications between the E8500 and a computer are done via wireless Bluetooth communications or a USB cable. A Bluetooth module for a computer comes standard with each E8500 gas analyzer. Data from the "EGAS" software can be exported to other spreadsheet programs for more user flexibility to create detailed emissions reports.
Sensor Options
Measures up to 9 Gases of your choice (up to 6 electrochemical type, and up to 3 NDIR type):
O2: 0-25%, Electrochemical

CO: 0-8000ppm, Electrochemical

CO Auto range: 0-20,000ppm, Electrochemical

CO: 0-15% NDIR

NO/NOx: 0-5,000ppm Electrochemical

NO2: 0-1000ppm Electrochemical

Low NO (and/or Low NO

2

): 0-500ppm Electrochemical

NO

x

: 0-5000ppm Calculated

SO

2:

0-5000ppm Electrochemical
CO

2:

0-99.9% Calculated
CO

2:

0-50% NDIR
CxHy: 0-3.00% NDIR
H2S: 0-500ppm Electrochemical
Draft, Pressure, & Velocity
An internal pressure sensor allows the analyzer to measure pressure and stack draft. With two pressure inputs, differential pressure can also be measured. Gas velocity can be measured using the differential pressure and an optional Pitot tube.
Rotating Display with Zoom
The LCD display screen has a continuous back light and is automatically rotated. The parameters displayed can be zoomed in to view from a distance or zoomed out for more parameters at one on the display screen.
Calibration
The analyzer comes standard with a complete factory calibration. The analyzer can easily be recalibrated with span gas cylinders. Recalibration is recommended at least once each year to ensure analyzer accuracy.
Weight: 11lbs (5kg). Dimensions: 10x6x9.5" (26x15x24cm)
Emissions Analyzer: E8500 Plus Portable Industrial Flue Gas and Emissions Analyzer
Item # E8500+

Add to Quote for Pricing

Add to Quote