Opacity: Wager 6500 Smoke Meter, Partial Flow Sensor Head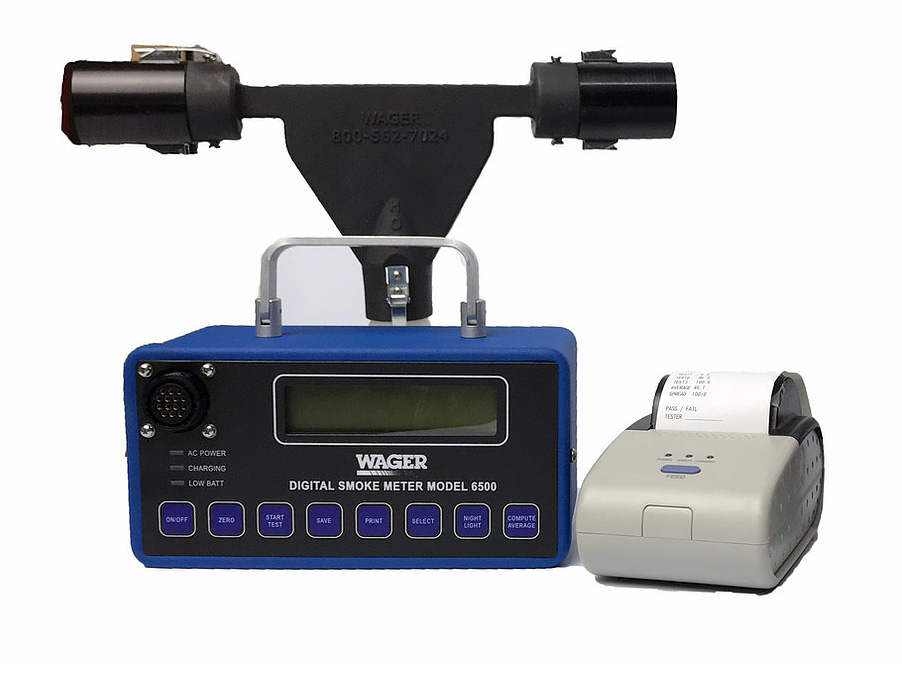 The Model 6500 smoke (opacity) meter provides a simple and accurate means of detecting and measuring the opacity of smoke emitted by a diesel engine. It encourages proper maintenance for improved fuel economy and protection of the environment.
Used by fleets, regulatory agencies and OEM laboratories around the world.
Design Features

The Model 6500 consists of a partial flow sensor head that connects to the control unit.
A light sensor reads the opacity of the emissions and relays the readings to the control unit's display. Both the SAE J1667 test ("snap-idle") and the "follow-mode" test (continuous readings under load) can be performed.
Test results can be printed individually on the system's impact printer. Up to 100 tests can be stored or printed in a batch operation.
Partial Flow Sensor Head
An extension pole with strong magnets allows the operator to take the measurement from the ground.
A pulsed green LED emitter as the monitor's light source ensures the ± 1% accuracy of readings in artificial light or even in direct light.
The sensor head attaches to exhaust stacks of many different configurations, up to 6" Æ. It employs a single pass system and has an operating distance of 7".
Model 6500 System (Complete)
(partial-flow sensor head)
194-6500PF
Consists of:
Control Unit with recorder jack, printer interface
Stack Piece (7") source and detector
Partial Flow Head
AC Adapter/Charger
Connecting Cable (25')
CPU Interface (software included)
Melles Griot Neutral Density Filter (.2)
Portable Impact Printer
Extension Pole
Instruction Manual
Carrying Case
For more information, visit our Smoke Detector solution page.
Connecting Cable
A 25' flexible, single line cable allows complete mobility test bay or fleet maintenance areas. (*25' extension available for testing busses).
Control Unit
The control unit is housed in a lightweight, weather-resistant aluminum case. The front panel is a membrane keypad with eight tactile feedback push buttons. It can be placed in the cab for tests under load.
Display
Easy to read, backlit alphanumeric liquid crystal display prompts the operator through the test sequences. Battery condition will also be displayed through a series of colored LED's.
Power
12V sealed lead-acid cell; which operates approximately 40 hours before a recharge is required.
Accuracy
All readouts are within ± one digit. Operating temperature 32° - 120° F. The unit is initially calibrated under clear stack conditions, with checks at 0% and 100% opacity. The meter can be precisely calibrated with a .2 neutral density filter, which is supplied with the system.
Reliability
Minimum drift, zero stability less than 1% per use. Pulsed green LED has infinite life expectancy. Resolution 1 digit (.01% of full scale). Meets SAE J1667 specification for full flow meters Appendix C using the required algorithm. Ambient Temperature correction (required in AZ) available through the software provided.
Low Maintenance
All solid state electronics. Lenses are accessible by simple snap closures. Baffle plates on interior faces of monitor help maintain lens cleanliness. External air connection ports.
Rugged Construction
For portability and protection, the control unit is housed in a lightweight, weather-resistant aluminum case The control unit and all accessory items (except the extension pole) are packed into a lightweight, high impact plastic case. The total weight is approximately 36 lb without the extension pole.
Warranty:
One year from date of purchase, parts and labor.
Opacity: Wager 6500 Smoke Meter, Partial Flow Sensor Head
Item # 194-6500C-PF

$5,775.00 each

Add to Quote