Detective Gas Monitor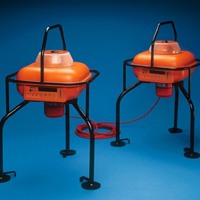 Detective
Intrinsically Safe Transportable Gas Monitor

Detective is the unique solution to temporary gas monitoring installation, ideally suited to shut downs or other short-term operations. The Detective operates from internal rechargeable batteries and can be put into place and set into operation immediately without the need for power or other infrastructure. Intrinsically safe, Detectives can also be linked together to provide temporary area monitoring systems, where all linked units show any alarm condition but units actually detecting gas indicate by the visual alarm lights flashing at twice the speed.
Simple to use, just put into place and switch on
Operates for up to 24 hours on full charge
Up to 4 gases measured
Fully flexible with interchangeable sensors
Loud 101dBA audible alarm
Bright visual alarm with flashing cluster LEDs
Tripod frame allows operation on uneven ground
Legs detachable for ease of transport
Sensors under body protected from dirty and wet conditions
Linked units for area monitoring
Typical measuring ranges and alarm settings (up to four gas measurement channels):
Gas
Standard Range
Typical Alarm Levels
Flammable gas
0-100% LEL
20% LEL
Oxygen
0-25%
19% & 23%
Hydrogen Sulphide
0-50ppm
10ppm
Carbon Monoxide
0-500ppm
35ppm
Sulphur Dioxide
0-10ppm
2ppm
Chlorine
0-5ppm
0.5ppm
Nitrogen Dioxide
0-10ppm
2ppm
Phospine
0-5ppm
0.5ppm
Ammonia
0-50ppm
25ppm
Hydrogen (nonflammable levels)
0-2000ppm
-
Hydrogen Cyanide
0-25ppm
10ppm
Hydrogen Chloride
0-10ppm
5ppm
Ozone
0-1ppm
0.5ppm
Other sensors available
Other ranges and alarm levels available
Part Number
Price
Detective (no sensors)
S01341
2,950.00
Code
Gas
Add
FL
Combustible 0-100%LEL
A
S01238
220.00
O2
Oxygen, 0-25% v/v
B
S01248
118.00
CO
Carbon Monoxide, 0-500ppm
C
S01241
260.00
H2S
Hydrogen Sulfide, 0-50ppm
D
S01240
260.00
SO2
Sulfur Dioxide, 0-10ppm
E
S01242
290.00
NO2*
Nitrogen Dioxide, 0-10ppm
F
S01244
370.00
CL2*
Chlorine, 0-5ppm
G
S01829
310.00
HCN
Hydrogen Cyanide, 0-25ppm
H
S01725
395.00
PH3*
Phosphine, 0-5ppm
I
S01252
395.00
NH3
Ammonia, 0-50ppm
J
S01726
420.00
H2
Hydrogen, 0-999ppm,
K
S01250
370.00
0-2000ppm
CLO2
Chlorine Dioxide, 0-1ppm
L
S01871
370.00
NO
Nitric Oxide, 0-100ppm
M
S01245
370.00
HCL*
Hydrogen Chloride, 0-10ppm
N
S01724
485.00
O3*
Ozone, 0-1ppm
O
S01251
420.00
VO**
Volatile Organics, 0-100ppm
P
S01253
395.00
ETO
Ethylene Oxide, 0-10ppm
Q
S01254
395.00
HF*
Hydrogen Fluoride, 0-10ppm
R
S01832
565.00
* Readily absorbed gases - they will not be detected if an aspirator or hose are used,
and are unsuitable for use in pumped instruments.
Detective Accessories
Part Number
Price
Membrane switch label protective film
M05364
125.00
Additional inter-connecting lead (per yard)
78.00
CrowComms 2000 software
C01715
98.00
Computer lead assembly from ser.no. 020400
E07394
360.00
Detective Spares
Part Number
Price
Aspirator pouch
C01094
34.00
Computer lead 9-25 way
C01295
34.00
Baffle plate
C01325
36.00
Computer lead 9-9 way
C01327
36.00
Allen key 2mm
C01347
1.10
Allen key 4mm
C01553
1.10
Box spanner & tommy bar
C01405
5.25
Battery pack
C01406
190.00
LED cluster
E01456
140.00
Membrane switch
E01468
47.00
Sounder Exis - 101 db
E01729
530.00
Flexible circuit/connector
E07155
36.00
Sounder lead
E07323
7.25
Charging lead from ser.no. 020400
Detective Gas Monitor
Item # Detective

$2,950.00 each

Add to Quote