Packaging: Diagnostic Specimen Dry Ice Cooler Kit - Bioship 602SS DTCK Temperature Control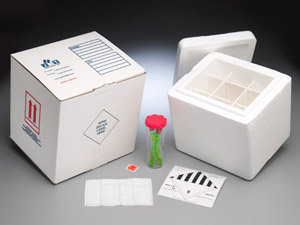 Bioship 602SS DTCK Diagnostic Temperature Control Kit has an airtight pressure vessel (secondary container), complete with biohazard label, absorbent pouch, dry ice label, instructions, positioning insert, cooler and outer fiberboard box. This package system meets all requirements of IATA/ICAO Packing Instruction 650 for air shipment, and all requirements of domestic and international regulations for ground transportation of diagnostic specimens. This kit is for the customer that needs a compliant diagnostic specimen dry ice shipper that they can afford.
The secondary container is 6" tall.
Features:
Meets the requirements of IATA/ICAO Packing Instructions 650 for shipping Diagnostic Specimens by air, as well as CFR 49 § 173.199 for ground transportation of these items.
Secondary container has an easy open positive lock closure.
Secondary container passes 95kPa and offers high impact resistance.
Secondary container is clear to see potential leakage before opening.
Outer dimensions of package are 11 1/8" x 9 5/8" x 10 7/8".
Inside dimensions of cooler are 7 7/8" x 6 3/8" x 7 7/8".
This package holds approximately 10 lbs of dry ice. Under average conditions the contents are kept under -18 degrees C for 72 hours.
Outer packaging is marked with all regulatory markings, including the newly required UN3373 marking.
Pricing listed is per kit which consists of one assembled unit. Additional discounts are available for larger quantities, please call for pricing.
Packaging: Diagnostic Specimen Dry Ice Cooler Kit - Bioship 602SS DTCK Temperature Control
Item # 602SS DTCK

$45.00 each

Add to Quote