Meteorology: Skywatch Geos #11 Handheld Weather Station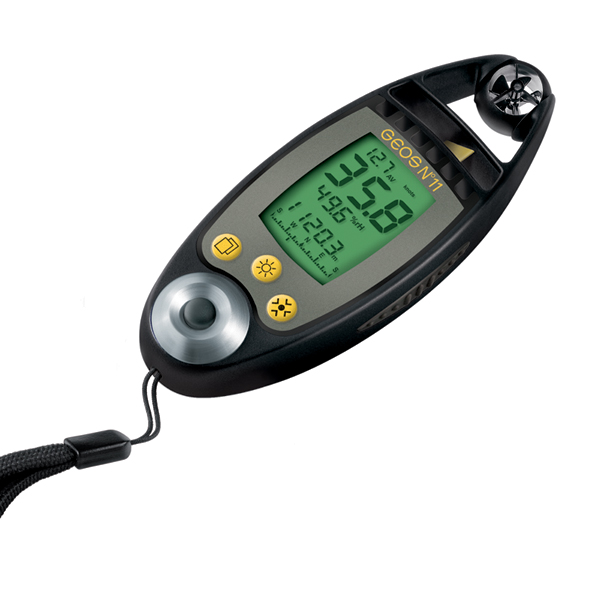 With features never before found on a handheld weather instrument, the GEOS 11 was designed specifically for the demanding needs of many markets:
Agriculture; control of wind speed and direction before using sprayed chemicals. Agri-foodstuff; control of storage environment (temperature, humidity).
Automobile; high-performance engine mechanics (density altitude).
Aviation; reading of the Flight Level, height, finesse, pressure, altitude, altitude variation, etc..
Rappelling; check the height when rappelling down.
HVAC; air flows and temperature measurements.
Sporting events; control of weather conditions during meetings, contest validation.
Trekking; recording of extreme conditions (mountains, deserts, polar spots), warning of sudden weather changes, wind chill indication.
Civil engineering; close estimation on surveying heights on property.
Geology; altitude and stratum measurement.
Military; heat stroke prevention, long range shooters, skydiving, artillery, weather conditions checking in case of chemical attacks.
Firefighters; managing the risk of forest fire propagation (wind speed and direction).
Rescue teams; evaluation of weather conditions for rescue and survival operations (coast guards, air rescue, etc.).
Science; meteorology, environment, aerodynamic, etc..
Sports and leisure; mountain bikes, climbing, alpinism, hiking, bow shooting, fishing, golf, scale models, kites, etc..
Free flight; hang gliding, paragliding, skydiving, balloon, base jump, wing flight.
Meteorology: Skywatch Geos #11 Handheld Weather Station
Item # Skywatch Geos #11

$575.00 each

Add to Quote