Compressor: Rocker 440 Compressed Air Supply System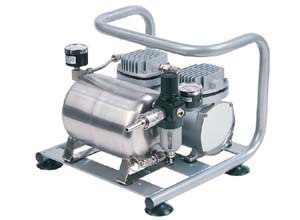 The Rocker 440 Compressed Air Supply System consists of a compressor, stainless steel air tank and pressure regulator/moisture trap.
Air is pumped into the air tank by the compressor then goes through the pressure regulator/moisture trap. After regulating and filtrating the air travels to the attached device.

Filtered compressed air is employed for oxygen supply, aeration and agitation of the medium in many pharmaceutical and biotechnological proccesses which need pressurized air or gas as a basic requirement for optimized operation or cell growth.

With precise construction and quality moving parts, the noise level is only ~ 50 dB - the lowest among equivalent products! The pump not only keeps the laboratory quiet, but also protects the operator from noise disturbances.

The Rocker 440 is next to maintenance-free because of the oil-free design. The Rocker 440 comes with guaranteed operation of two-years or 3000 working hours of free service parts (excluding the moisture filter)!

FEATURES
Please specify under special instructions your voltage requirements (110V/60hz or 220V/50Hz).
Quiet & Low Vibration: direct-driven motor and high quality rubber feet keep noise level ~ 50 dB
Compact & Lightweight: aluminum die-cast with precise construction
Clean & Maintenance Free
Safe & Comfortable: CE-approved
Compressor: Rocker 440 Compressed Air Supply System
Item # 167440-11, 167440-22 (220V/50Hz)

$903.00 each

Add to Quote