Pump: Rocker 400 Oil-Free Vacuum Pump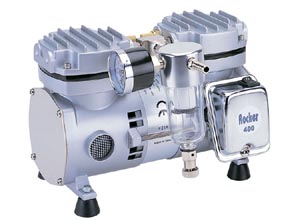 The Rocker 400 is a piston-powered oil-free pump that provides vacuum and pressure in just one unit.
With precise construction and quality moving parts, the noise level is only ~ 50 dB - the lowest among equivalent products! The pump not only keeps the laboratory quiet, but also protects the operator from noise disturbances.

The Rocker 400 is next to maintenance-free because of the oil-free design. The Rocker 400 comes with guaranteed operation of two-years or 3000 working hours of free service parts (excluding the moisture filter)!

FEATURES
Quiet & Low Vibration: direct-driven motor and high quality rubber feet keep noise level ~ 50 dB
Compact & Lightweight: precise construction and aluminum die-cast
Clean & Maintenance Free
Safe & Comfortable: CE-approved

The Rocker 400 is equipped with a 1/6 hp motor and provides 37 lpm of free air displacement at 110V/60Hz... 34 lpm at 220V/50Hz and 650 mm Hg of maximum vacuum. It also contains one moisture trap/vacuum regulator for filtrating particles and moisture from the inlet air and features adjustment of the vacuum level.

With its light weight, the Rocker 400 is not only suitable for laboratory liquid filtration, but also perfect for stack or ambient gas sampling.

To enable the pressure function, the Conversion Kit (P/N 167420-30) is required for the simple, time-minimal conversion from a vacuum pump to a compressor.

APPLICATIONS
Liquid filtration
Microbiology
Suspended solid
Air sampling
Stack gas
Ambient air
Vacuum oven
Fume suction
SPECIFICATIONS
Max. Vacuum: 650mmHg
Max. Flow Rate: 37L/min (110V/60Hz), 34L/min (220V/50Hz)
Motor Rotation: 1750 RPM (110V/60Hz), 1450 RPM (220V/50Hz)
Horse Power: 1/6 HP
Pole: 4P
Gross Wt: 13.6lbs/6.2kg
Port Thread: 5/16"
Noise Level: 50dB
Please specify under special instructions your voltage requirements (110V/60hz or 220V/50Hz).
Pump: Rocker 400 Oil-Free Vacuum Pump
Item # 167400-11, 167400-22 (220V/50Hz)

$535.00 each

Add to Quote