Pump: Rocker 500 Oil-Free Vacuum Pump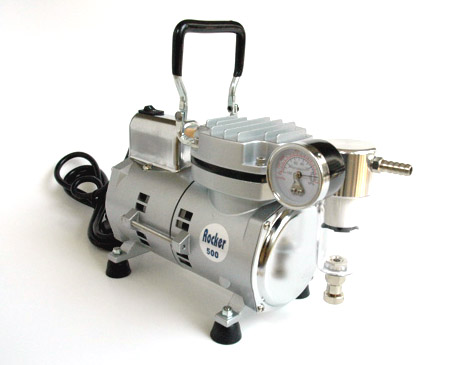 The Rocker Series oil-free vacuum pumps/compressor are piston-powered and have the following characteristics:
Quiet and low vibration. We're talking 48.7~60dB. There is nothing quieter on the market!
Compact and light weight. The aluminum die-cast makes this pump small and compact, weighing only 4-6Kg (8.82-13.23lbs)!
Clean and maintenance free. Oil-free design makes it clean and maintenance free. We guarantee two years or 3000 working hours of free service parts (excluding the moisture filter).
Safe and comfortable. CE approved!
Specifications
Max. Vacuum: 650mmHg
Max. Flow Rate: 28L/min (110V/60Hz)
Motor Rotation: 3200 RPM (110V/60Hz)
Horse Power: 1/8 HP
Pole: 2P
Gross Wt: 11.24lbs/5.1kg
Port Thread: 5/16"
Noise Level: ~60dB
Appropriate Applications
Liquid filtration for microbiology
Suspended soild test
Liquid sprayer
Air sampling
vacuum tweezer
Aeration bubbler
Please specify under special instructions your voltage requirements (110V/60hz or 220V/50Hz).
Pump: Rocker 500 Oil-Free Vacuum Pump
Item # 167500-11, 167500-22 (220V/50Hz)

$442.00 each

Add to Quote